Our newly constructed 3-bedroom, 2-bathroom beach house cabin on Texas's scenic Bolivar Peninsula should be your next home away from home. Crystal Beach, particularly the coveted Lafitte's Landing neighborhood, is the perfect backdrop for your next family beach getaway. Its high-end amenities and proximity to the beach and local attractions make it an idyllic choice for families and groups seeking a relaxing escape. Whether you're a seasoned traveler or new to this charming part of the Gulf Coast, there's something here for everyone. So, let's delve into what makes Crystal Beach and our vacation rental the perfect combination for your next adventure.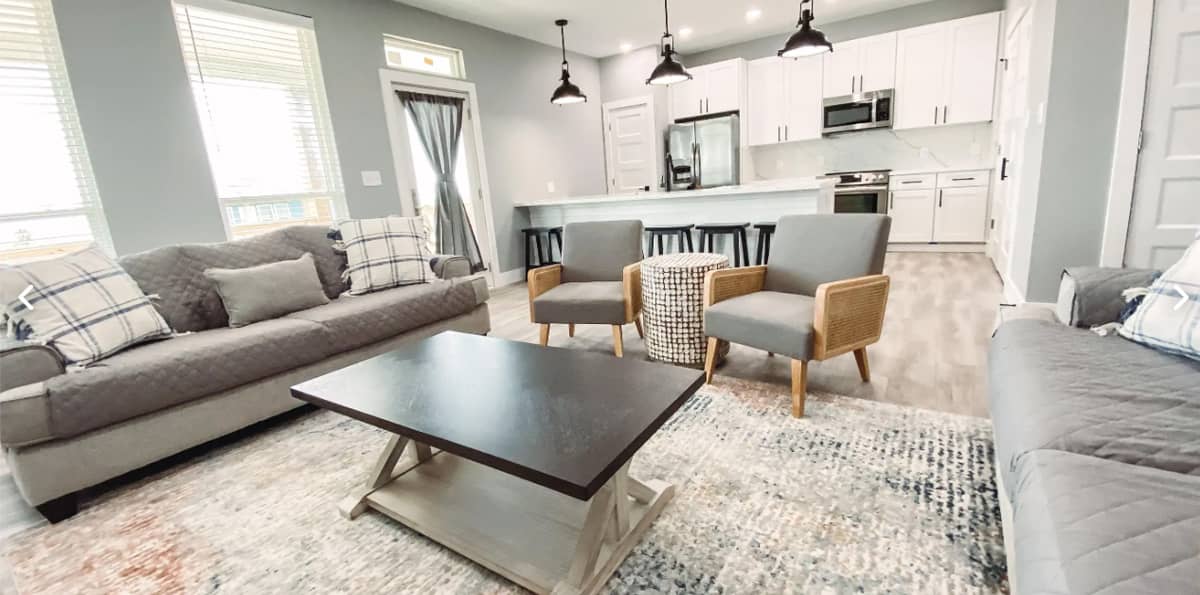 Property Highlights
Our Hidden Gold vacation rental is a gem on the Gulf Coast, offering the ultimate beachside experience. This charming beach cabin boasts three bedrooms and two full bathrooms, ensuring ample space for family or friends. What sets it apart is the mindfulness in the design and the inclusion of high-end finishes that make you feel right at home from the moment you step inside. The fully stocked kitchen has modern appliances and all the necessary cooking utensils, makes meal preparation a breeze, and a dishwasher ensures easy cleanup.
We've carefully designed the sleeping arrangements to cater to various groups, whether you're traveling with family or friends:
Bedroom 1 features a comfortable queen bed, providing a peaceful retreat after a day of beachside adventures.
Bedroom 2 mirrors the same cozy setup, with another queen bed, ensuring a good night's rest.
Bedroom 3 rounds out the accommodations with a third queen bed, making it a versatile space for couples, families, or groups of friends.
The common spaces have two sofa beds, ideal for accommodating additional guests or for lounging and relaxation.
With these sleeping arrangements, our vacation rental can comfortably host up to 10 guests, making it an excellent choice for larger families or groups of friends. The cozy and thoughtfully decorated bedrooms ensure everyone has space to relax and unwind, contributing to a memorable and comfortable stay at Crystal Beach.
Additional Features
The fully equipped kitchen has a kitchen island, coffee maker, cookware, dishes, utensils, dishwasher, microwave, oven, refrigerator, and stove. It's a culinary haven for those who love to cook, allowing you to prepare delicious meals for the family or your group.
When you're ready to relax outdoors, our property has you covered. The balcony and deck/patio are perfect for enjoying the Gulf Coast's beautiful weather. Fire up the gas grill for a barbecue, bask in the sun, or savor an evening under the stars. Outdoor lighting enhances the ambiance and allows you to extend your time outside.
Ample parking and a garage offer a secure place for your vehicle, whether it's your car or a rental. This convenience ensures you can come and go as you please without the hassle of searching for parking.
Climate and Weather
Throughout the year, Crystal Beach offers an enticing climate. The subtropical climate ensures you can plan your visit whenever you desire. Summers are warm and inviting, perfect for enjoying the beach and water activities. Winters are mild, with temperatures rarely dropping to uncomfortable lows, making it an excellent destination for a sunny escape during the colder months. Spring and fall bring pleasant weather, making outdoor exploration and adventures more enjoyable.
The appealing climate allows for a diverse range of activities year-round, from sunbathing and swimming in the summer to serene beach walks and cozy bonfires in the cooler months. No matter when you visit, Crystal Beach's climate will enhance your vacation experience, ensuring you have the perfect weather conditions to create lasting memories with your loved ones.
Local Attractions
One of the many charms of the Bolivar Peninsula is the abundance of local attractions and activities that await you. You'll find diverse options for all tastes and interests in this coastal paradise. Whether you're looking for outdoor adventure, family-friendly entertainment, or a place to unwind, Crystal Beach has it all.
Thrill-seekers can embark on parasailing adventures, while anglers can try deep-sea fishing or fishing in the bay. The nearby marina provides easy access to boat rentals for a leisurely day on the water. Or dive into the Gulf's pristine waters for swimming, windsurfing, kayaking, parasailing, and surfing.
If you're a golf enthusiast, take advantage of the opportunity to play a round at the local golf courses. Nearby parks offer opportunities for strolls, picnics, and a chance to appreciate the area's natural beauty. For families, nearby water parks promise a day of thrilling aquatic fun.
Exploring the local neighborhood is a must. Crystal Beach is well-equipped with amenities, including grocery stores, gas stations, and an array of restaurants serving delectable Gulf Coast cuisine. Take the chance to savor local dishes that celebrate the region's flavors.
Why Choose Crystal Beach?
There are several distinctive advantages that set Crystal Beach apart and why it's the perfect choice for your vacation. Compared to other beach destinations in Texas, like Galveston or South Padre Island, Crystal Beach maintains a more authentic vibe.
Scenic Beauty and Serene Ambiance: Crystal Beach's natural beauty is a sight. The serene and unspoiled landscapes, with pristine white sands and the gentle lapping of the Gulf's emerald waters, create a picture-perfect setting for relaxation. You'll find tranquility here that is often hard to come by in more bustling beach destinations.
Proximity to Major Cities: While offering seclusion, Crystal Beach is still conveniently accessible. Just a short drive away from the bustling city of Houston, this beachside paradise allows you to escape the urban grind without undertaking an arduous journey. It's the perfect balance of isolation and accessibility.
Local Charm and Culture: Crystal Beach embraces its Gulf Coast heritage. You'll discover a rich local culture that's welcoming and unique. From the seafood cuisine to the friendly locals, it's an experience you won't find in more touristy destinations.
Getting There
Convenient access is essential to any vacation, and reaching Crystal Beach on the Bolivar Peninsula is easier than you might think:
Directions to Crystal Beach: The Bolivar Peninsula is accessible by car. It's a 1.5 to 2-hour drive from Houston, depending on your exact location in the city. If you're flying into Houston, you can rent a car at one of the major airports to make the drive to Crystal Beach. A unique feature of the journey is the ferry ride across Galveston Bay, providing a scenic experience and the thrill of crossing the water to reach your destination. The ferry is free and the gateway to the tranquil beauty of the Bolivar Peninsula.
Nearest Major Airports: Houston is the primary gateway to Crystal Beach for those who prefer to fly. Located 90 miles northwest of Crystal Beach, George Bush Intercontinental Airport (IAH) is one of Houston's major airports and offers plenty of domestic and international flights. William P. Hobby Airport (HOU), approximately 80 miles southwest of Crystal Beach, is another option for travelers. It primarily serves domestic flights. Both airports provide car rental services.
Booking Your Stay
To experience all that Crystal Beach offers, including your stay in our beach cabin, we invite you to check dates and availability. Booking your stay directly on our Lone Star State Vacation Rentals site ensures a seamless experience. We can't wait to host your stay and help you create lasting memories in this coastal paradise. Your adventure begins here!