One of the most captivating features of Austin's landscape is its collection of pristine lakes. These bodies of water provide recreational opportunities and serve as serene escapes from the urban hustle and bustle. In this blog, we'll delve into the best lakes near Austin, uncovering their unique offerings, natural beauty, and the array of activities they host. From the iconic Lake Travis to the tranquil Lady Bird Lake, let's embark on a journey to explore six stunning lakes that enrich Austin's outdoor allure.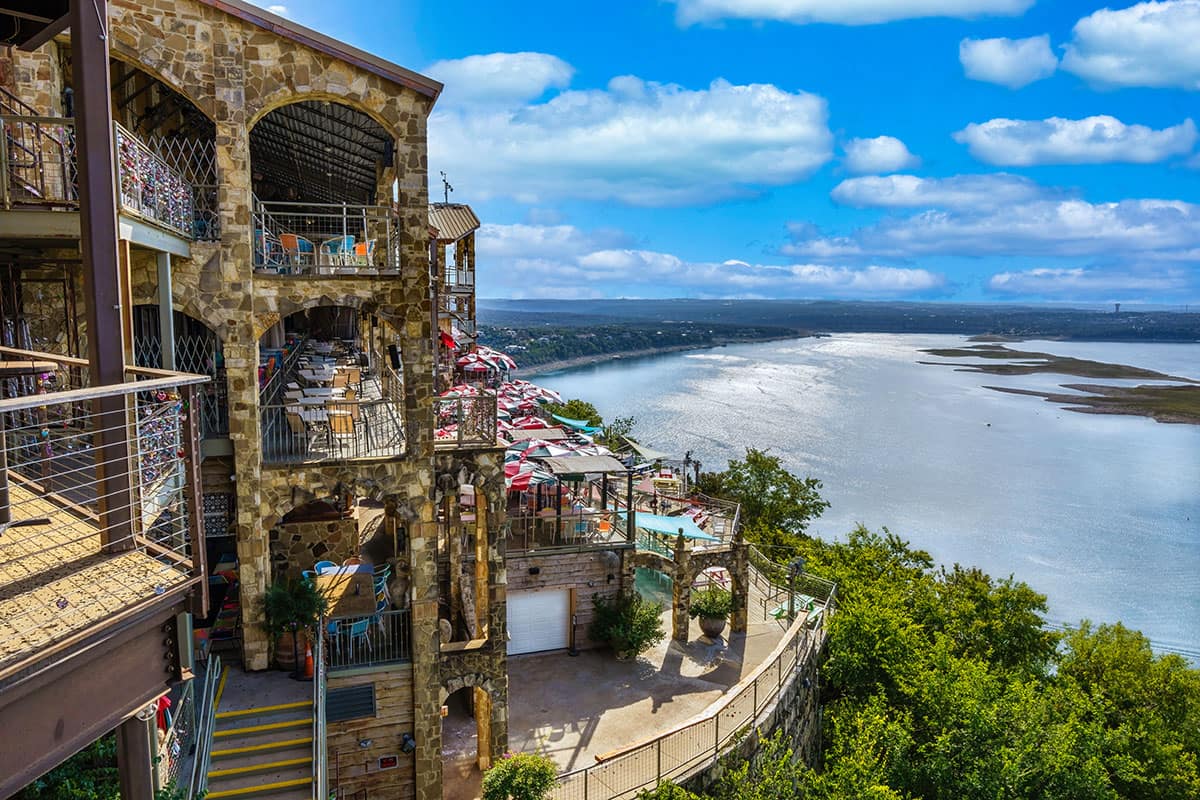 1. Lake Travis
Stretching across approximately 63.75 square miles, Lake Travis is one of Central Texas's most celebrated lakes. Situated just a stone's throw from Austin, this reservoir on the Colorado River serves as a primary water source and a recreational paradise for those seeking aquatic adventures.
Overview of Lake Travis
Lake Travis's impressive expanse and proximity to Austin make it a popular destination for water enthusiasts and nature lovers. Formed by the damming of the Colorado River, this reservoir offers stunning views of crystal-clear waters against a backdrop of rolling hills and a diverse range of activities for visitors.
Water Activities
Lake Travis is a playground for water activities of all kinds. Boating enthusiasts can take their vessels onto the expansive water surface, exploring hidden coves, secluded beaches, and even party coves where boats gather to socialize. Fishing enthusiasts can cast their lines for a chance to catch bass, catfish, and sunfish, among other species. Jet skiing, water skiing, and wakeboarding are popular pastimes on the lake.
Recreation Areas
The lake is bordered by several parks and recreation areas that offer opportunities to bask in its natural beauty. Hippie Hollow Park, known for being Texas's only clothing-optional park, draws visitors looking for a unique lakeside experience. Windy Point Park is a haven for scuba divers, offering underwater adventures amidst the lake's diverse aquatic life.
Dining and Entertainment
Lake Travis's shores are dotted with various restaurants, bars, and live music venues. These establishments provide a perfect blend of lakeside relaxation and vibrant entertainment. Visitors can enjoy tasty meals while taking in stunning sunset views or groove to live music performances that encapsulate Austin's musical spirit.
2. Lady Bird Lake (Town Lake)
Amidst the urban landscape of downtown Austin lies the picturesque Lady Bird Lake, often referred to as Town Lake by locals. Named after the beloved former First Lady Lady Bird Johnson, this reservoir is a tranquil oasis within the city's heart.
Overview of Lady Bird Lake
Lady Bird Lake is a testament to Austin's commitment to preserving natural beauty within an urban setting. Created as a power plant cooling pond, the lake has transformed into a serene retreat that seamlessly blends nature and city life.
Hiking and Biking Trails
The Ann and Roy Butler Hike-and-Bike Trail encircles Lady Bird Lake, offering a scenic route for walkers, joggers, and cyclists. This 10-mile loop allows visitors to enjoy stunning vistas of the water, the city skyline, and the lush vegetation that lines the trail.
Paddling and Kayaking Opportunities
For those seeking a more immersive experience on the water, Lady Bird Lake offers an array of paddling and kayaking options. Rentals are available for paddleboards, kayaks, and canoes, allowing visitors to explore the lake's calm waters at their own pace.
Zilker Park
Adjacent to Lady Bird Lake is Zilker Metropolitan Park, a 350-acre green space that offers many recreational activities. The park provides opportunities for paddleboarding, hiking, and picnicking. Zilker Park is also home to the iconic Barton Springs Pool, a natural spring-fed pool that offers a refreshing escape from the local heat.
3. Lake Austin (Lake McDonald)
Flowing through the western part of Austin, Lake Austin, also known as Lake McDonald, is a picturesque reservoir that provides a unique blend of natural beauty and upscale living.
Lake Austin's Unique Features
Unlike other lakes in the area, Lake Austin was formed by the damming of the Colorado River, resulting in a narrow and winding waterway flanked by breathtaking cliffs and lush foliage. Waterfront estates surround the lake, showcasing luxurious homes seamlessly integrating with the natural surroundings.
Waterfront Dining and Nightlife
Lake Austin is renowned for its upscale dining and vibrant nightlife options. Numerous restaurants and bars along the lake's shoreline offer exquisite cuisine and refreshing cocktails with scenic views. Whether looking for a romantic dinner by the water or a lively evening of socializing, Lake Austin's establishments have something for every taste.
Water Sports
Lake Austin offers boat rentals and watercraft options for those seeking water-based adventures. Visitors can rent pontoon boats, jet skis or even hire private boat charters for a personalized experience on the lake. Water skiing, wakeboarding, and tubing are fun activities that allow you to make the most of Lake Austin's inviting waters.
Deep Eddy Pool
Just a stone's throw from Lake Austin lies the Deep Eddy Pool, the oldest man-made swimming pool in Texas. Fed by natural spring water, this pool offers a refreshing and unique swimming experience, making it a favorite spot for locals and visitors.
4. Inks Lake
Tucked away in the picturesque Texas Hill Country, Inks Lake is a hidden gem among Austin's nearby lakes. Inks Lake State Park, which surrounds the lake, offers a peaceful escape into nature and many outdoor activities.
Exploring Inks Lake
Inks Lake State Park is a haven for nature lovers and outdoor enthusiasts. With its crystal-clear waters and rugged landscapes, the park provides a serene atmosphere for relaxation and exploration.
Camping and Hiking
The park boasts various camping options, from tent sites to RV spaces, allowing visitors to immerse themselves in the beauty of the Hill Country overnight. Hiking trails meander through the park, offering opportunities to explore the local flora and fauna. The Pecan Flats Trail and the Valley Spring Creek Trail are among the favorites, leading to stunning viewpoints and peaceful creekside settings.
Fishing and Paddleboat Rentals
Inks Lake is a popular spot for fishing, particularly for anglers seeking to catch catfish, bass, and sunfish. The lake's relaxed waters make it an ideal place for novices to try fishing. Paddleboat rentals are also available, allowing visitors to leisurely explore the lake's shoreline and hidden coves.
Scenic Overlooks
The park offers several overlooks that provide breathtaking lake views against rolling hills. These vantage points are spectacular during sunrise and sunset, making perfect photo opportunities. In the spring, the park bursts to life with vibrant wildflowers, creating a picturesque landscape that adds to the charm of Inks Lake.
5. Lake Buchanan
Lake Buchanan, the largest of the Highland Lakes, offers a relaxed retreat from the hustle of city life. With its expansive waters and surrounding landscapes, this lake is a must-visit destination for those wanting a serene lakeside experience.
Overview of Lake Buchanan
Lake Buchanan is located northwest of Austin and offers a more secluded and rustic atmosphere than some urban lakes. It plays a prime role in the region's water conservation and flood control.
Fishing Hotspots
Known for its excellent striper fishing, Lake Buchanan draws anglers seeking a rewarding fishing experience. The lake has plenty of striped bass, and fishing guides are available to help visitors navigate the best spots and techniques for catching these sought-after fish.
Vanishing Texas River Cruise
One of Lake Buchanan's unique attractions is the Vanishing Texas River Cruise. This guided tour takes you on a picturesque boat ride to explore the lake's rugged shoreline, hidden waterfalls, and breathtaking landscapes. It's an opportunity to witness the beauty of Lake Buchanan from a different perspective.
Fall Creek Vineyards
For those seeking a touch of sophistication, Fall Creek Vineyards offers a wine-tasting experience with stunning views of Lake Buchanan. This winery allows visitors to savor award-winning Texas wines while enjoying the serene beauty of the lake's surroundings.
6. Lake Georgetown
Nestled on the North Fork of the San Gabriel River, Lake Georgetown is a testament to natural beauty and practicality. Beyond its recreational offerings, this reservoir plays a crucial role in the region's water conservation and flood control.
Overview of Lake Georgetown
Lake Georgetown's primary function is to provide water for Georgetown and its surrounding areas while offering flood control during heavy rainfall. This dual purpose highlights the lake's significance as a vital resource for the community.
San Gabriel Park
Adjacent to the lake is San Gabriel Park, a sprawling space that offers a range of recreational activities. Visitors can enjoy hiking, picnicking, and fishing along the river. The park's serene ambiance makes it ideal for families and nature enthusiasts to unwind.
Cedar Breaks Park
Cedar Breaks Park, located on the southern shore of Lake Georgetown, is a haven for camping and outdoor exploration. The park features well-equipped campsites, hiking trails, and scenic overlooks with breathtaking views of the lake and its surroundings.
Good Water Trail
For avid hikers and trail enthusiasts, the Good Water Trail offers a 26-mile loop around Lake Georgetown. This trail showcases the area's natural beauty, taking hikers through diverse landscapes and providing opportunities for birdwatching and wildlife observation.