Port Bolivar is one of the best places for a Gulf Coast vacation, and Lafitte's Landing is one of the most desirable rental locations. Lafitte's Landing primarily has mid-sized homes ranging from two to six bedrooms. It sleeps seven guests comfortably. The neighborhood is only a short distance from Crystal Beach, a seven-mile-long beach that's one of the region's finest. Our 3-bedroom, 2-bath Hidden Gold Gulf Coast Hideaway is a newly constructed beach cabin that perfectly combines family-friendly and beach luxury. Let's take a closer look at this prime Port Bolivar rental property: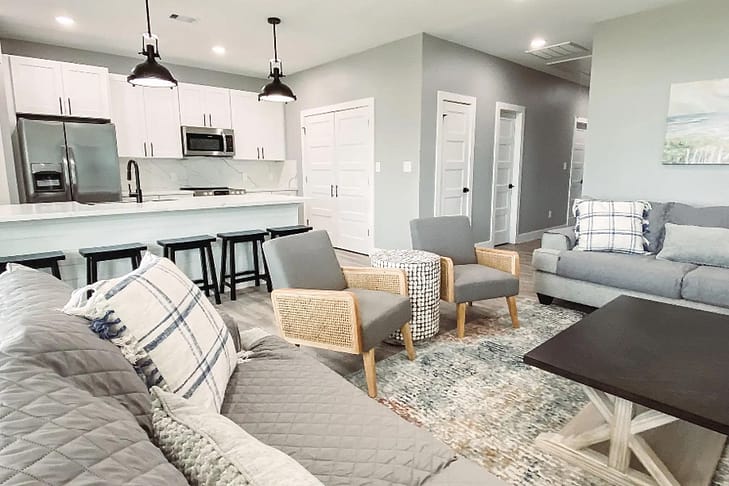 Property Details
Our Hidden Gold Gulf Coast Hideaway is an ideal location for a getaway to the Texas coast. It's a perfect spot to soak up the sun on the beach, play in the ocean, or head into town for daytime fun, a wonderful dinner, or fascinating nightlife activities. This property is just a short walk or golf cart ride to the beach, which you can access from the Lafitte's Landing community. The immediate vicinity offers delectable restaurants, local grocery stores, convenience stores and gas stations.
For your comfort, the house comes with air conditioning for warmer days in the summer, plus central heat to keep you comfortable during the winter. Outdoors, enjoy a balcony with a deck and a patio below. There's even a gas grill for a relaxing cookout.
Additional features include a garage, washer/dryer and complimentary Wi-Fi. Fresh linens and towels are also provided. Safety features include a deadbolt lock, smoke detector, carbon monoxide detector, fire extinguisher and plenty of outdoor lighting.
Rentals start at $275 per night. (Rates vary due to seasonality and holidays.) Please select your dates on our online booking calendar for an exact quote. No pets are allowed.
Main Living Area
The main living area has sofa beds, hardwood floors, a ceiling fan, recessed overhead lighting, flatscreen TV, a beautiful area rug, a coffee table and additional seating. It seats seven to eight people comfortably. The living area is light and bright, with large windows with blinds that easily open and close. There is also a door that provides immediate access to the deck. The deck features a sitting and eating area with great views!
Kitchen
The adjacent kitchen has stunning white-clad cabinets with plenty of storage, hardwood floors, and a kitchen island with overhead lighting and seating for six people. The kitchen has all name-brand stainless-steel appliances, including a refrigerator, stove/oven and microwave. The entire space is highlighted with recessed lighting and gorgeous white marble countertops. Other kitchen amenities include a coffee maker, toaster, quality cookware, and a complete set of cooking utensils, dishes and flatware.
Bedrooms
The three bedrooms have hardwood floors, end tables with lamps, and a comfy Queen bed with high-quality linens. The bedrooms all have windows with blinds so you can sleep with the lots of fresh ocean air.
Bathrooms
The two full bathrooms have hardwood floors, a large mirror, white marble countertops, towel hooks and a bath/shower combo. The main bathroom is in the hallway near the two guest rooms. The master bathroom is just off the primary bedroom. The residence also includes a complete set of plush bath towels and a hair dryer.
Attractions
Nearby attractions include the bay, marina, scenic parks and water parks. Boating and water sports are popular daytime activities. Other popular activities include deep-sea fishing, golfing, jet skiing, kayaking, parasailing, sailing, surfing, swimming and windsurfing.
About Bolivar Peninsula
Bolivar Peninsula has over 27 miles of pristine beach shoreline along the Gulf Coast. Crystal Beach is one of the best and cleanest in the area. Vehicles are allowed to drive and park on all 27 miles of it. You can purchase a beach parking permit from numerous local shops or stores in Bolivar or Crystal Beach. It costs around $15 for an entire year.
The beach is accessible from most crossroads along Highway 87. During the day, you'll find families and friends on the sandy beach, constructing sandcastles, looking for shark teeth and seashells, boogie boarding, surfing, or just soaking up the sun. The beach is an excellent spot for a mid-day picnic or late-afternoon barbecue.
Crystal Beach Activities
New Year's Eve and the Fourth of July are key dates to mark on your calendar at Crystal Beach. On both dates, you can see spectacular fireworks that span the entire length of the beach. At the Hidden Gold beach cabin, you'll have a front-row seat for a fireworks display that you won't want to miss. You can kick back and watch the show, park your vehicle on the beach (if you have a permit) or swing by one of the local fireworks stands and stock up on your own festive goodies. The only rule is you pick up after yourself and leave the beach clean and safe for future guests.
Points of Interest
Port Bolivar is home to some fantastic nature! The Houston Audubon Horseshoe Marsh and the Bolivar Flats bird sanctuaries are near this vacation rental. The area has a fantastic combination of salt marsh, mud flats and beachfront and is home to the highest-rated designation in the birding world, known as a Globally Important Bird Area. It is an international site in the Shorebird Reserve Network, with hundreds of thousands of birds converging there to feed on local marine life.
There are hundreds of species of shorebirds and land birds to see, including pelicans, cranes, herons, osprey, spoonbills, and crested caracara. Many make their home here, while others make a stop during their annual migratory route. The best way to view the birds without disrupting their natural habitat is along the North Jetty, just west of Rettilon Road, or from a kayak in the water.
About Lone Star State Vacation Rentals
Lone Star State Vacation Rentals has centrally located properties for rent in Austin and along the Gulf Coast. Our accommodations range from cozy studios to apartments and private houses. Our studios and apartments are ideal for individuals and couples, while if you have a bigger group, our largest property can comfortably accommodate up to 12 people. Additionally, many of our properties are close together, even in the same complex, allowing us to keep large groups close.
Whether you're in the Lone Star State for business, a romantic getaway with your significant other, or a special occasion with the whole family, we've got the perfect accommodation for you.