If you're known as the "Live Music Capital of the World," chances are there are some pretty sweet places to hear those incredible sounds. Austin is home to a mind-boggling amount of music venues – with more than 250 spots around the city to catch a live performance. There are live music stages all over the city, with shows every night of the week ranging from classic country and western to punk rock, pop, rap, and EDM. From major headlining acts to today's biggest up-and-comers, everybody plays Austin. And, with major events and showcases like Austin City Limits and the SXSW fest, there's something to get excited about at any time of year.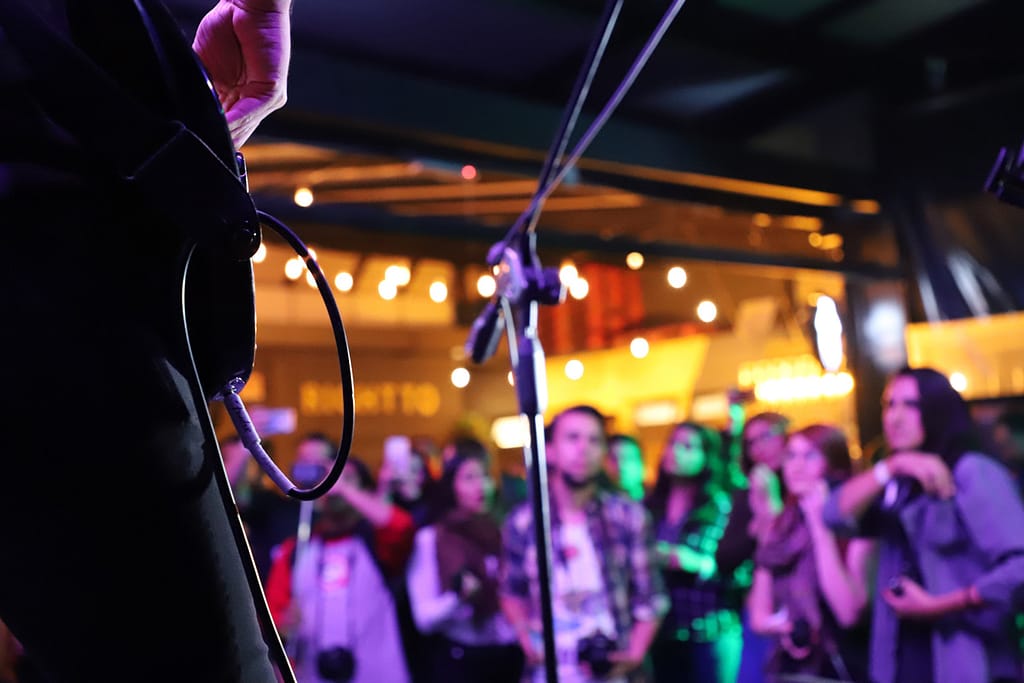 Are you ready to cut loose? Here's our roundup of the best live music venues in Austin:
Antone's Nightclub
Antone's Nightclub has long been known as the "World Famous Home of the Blues." The club has hosted artists since 1975, including legendary bluesmen like B.B. King, Stevie Ray Vaughn, Eric Clapton, Buddy Guy, and Gary Clark, Jr. Originally located on Sixth Street, the club now has a home on Fifth Street. The intimate, 450-seat venue hosts blues and roots musicians almost every night with an early and a late show.
Bass Concert Hall
Bass Concert Hall inside the Texas Performing Arts Center at the University of Texas at Austin is perfect for those who like to dress up and listen to top-notch jazz. The famed venue brings in big names – think Patti LaBelle, Diana Krall, and The Temptations – and showcases musicals from the Broadway in Austin series.
Broken Spoke
The Broken Spoke is an old-fashioned Texas honky-tonk. With a max capacity of only 150, the dance hall is perfect for dusting off your two-step while you get loose to country legends like George Strait, Dolly Parton, and Willie Nelson. Dance lessons are offered a few nights a week if you need pointers. When you work up an appetite, pair a Lone Star beer with one of Spoke's gigantic chicken-fried steaks.
C-Boys Heart And Soul
Just down the street from the Continental Club on South Congress, C-Boys Heart and Soul is a jazz and soul nightclub under the same ownership. The 200-seat venue showcases live music seven nights a week. At the club, you can unwind on the cozy outdoor patio with friends or head upstairs to the Jade Room, a classy cocktail lounge that's one of the hippest spots in town.
Cactus Cafe
If you're into true musicianship, make a stop at Cactus Café. Renowned for showcasing the best acoustic acts in the business since it first opened in the late 1970s, Cactus Café has hosted legendary performers like Lucinda Williams and Lyle Lovett over the years.
Carousel Lounge
It's a circus at Carousel Lounge, a vibrant carnival-themed bar that has been a favorite with locals and tourists since 1963. Vintage murals of elephant and lion trainers adorn the walls. An authentic carousel behind the bar makes a bizarre backdrop for live performances ranging from belly dancing to rock'n'roll.
Cheer Up Charlies
Cheer Up Charlies, an LGBTQ-friendly establishment in the Red River district is a great place to experience a more modern, bohemian feel to Austin's music culture. The 1,000-seat venue primarily books local performances for its indoor or larger outdoor stage, which is connected to an expansive terrace. The club offers music, drag shows, cocktails, dancing, and lots of fun.
Continental Club and Gallery
The Continental Club and the upstairs Continental Gallery provide unique venues to catch a show on South Congress in Austin. The 200-capacity Continental Club opened in 1955 and has hosted several big names in country, rock, jazz, soul, and rockabilly throughout the decades. The small room, tiny stage, and iconic neon sign consistently set the stage for a memorable live performance. Upstairs, the Continental Gallery has a speakeasy feel and regularly features singer/songwriters, jazz, and acoustic artists.
Donn's Depot
Donn's Depot is a one-of-a-kind dance hall that is an old Missouri-Pacific train depot that was moved to Austin. The women's restroom is an authentic train caboose. The beautiful wooden dance floor is a great place to get your groove on as live music fills the space six nights a week, offering boogie-worthy sounds from country to swing.
Elephant Room
Should we address the Elephant Room? The cozy, 50-capacity basement music venue on Congress Avenue keeps it simple: no frills, hearty cocktails, and tremendous live jazz every night of the week. The Elephant Room has been one of Austin's best places to hear hip jazz jams and veteran trios for more than 30 years. Weeknight performances are often free of charge.
Emo's East
Originally a Houston punk club, Emo's East has been an Austin landmark since the early 1990s. The 1,700-capacity indoor concert venue in East Austin lets its music do the talking: The building is a square room with a stage and standing room only. But the bands are killer, and the shows are off the hook. It's hardcore music-lovin' at its finest
Empire Control Room & Garage
If kitschy clubs and funky laser light shows are your vibes, check out the Empire Control Room and Garage lineup. There are concerts on three separate stages, including one indoors and another in a converted garage), almost every night of the week.
Historic Scoot Inn
How historical is the Historic Scoot Inn? Try 1871. It's the oldest bar in central Texas – and that's saying something. It is situated in the heart of East Austin, and the outdoor venue seats just over 1,000 concertgoers. There is an outdoor stage with standing room only and an indoor bar. There's also a tiny stage indoors – Ivy's Room – with occasional piano performances. Before or after your show, there are plenty of places to grab a bite to eat nearby.
Hole in the Wall
The Hole in the Wall stage has been across the street from the University of Texas at Austin since 1974. Over the years, it has hosted artists like Don Henley of the Eagles. To catch more of Austin's music scene, see Unplug This on Monday nights at the club, hosted by a local songwriter.
Hotel Vegas
Hotel Vegas has live music and DJs almost every night of the week. Their sister bar, Volstead Lounge, is an excellent place to meet up with friends for a creative cocktail and listen to various live music acts.
Little Longhorn Saloon
For more than 40 years, the Little Longhorn Saloon has been at the center of Austin's country music scene. At least 10 bands play at the Little Longhorn Saloon weekly, and there is never an admission fee or cover charge.
Mohawk
The multi-level Mohawk in the Red River district can host 900 guests for grungy/dive bar shenanigans with epic rock shows on the ground level, while more laid-back performances take place on the three balcony levels. The rooftop patio and side-stage viewing space are a great spot to hole up during happy hour.
Moody Amphitheater
One of the newer venues in Austin, the 5,000-capacity Moody Amphitheater is where the major headliners play regularly. There are ticketed seats for those who want to be up close and personal with their favorite act, but the comfy lawn is a favorite of concertgoers who want to stretch out and move to the music.
Moody Center
The muti-use Moody Center on the UT campus opened in 2022 and seats 15,000 for big arena shows. The Moody Center replaces the long-standing Erwin Center, which hosted legendary concerts for years in Austin. The new venue is more prominent, has more amenities, and offers guests improved acoustics and audio gear for an enhanced experience. In addition to music, the center hosts various events during the year.
Moody Theater
Moody Theater is home to the live PBS tapings of Austin City Limits, the longest-running TV music series in the United States. The 2,750-seat venue is in the Second Street district and has state-of-the-art lighting and sound. There are roughly 100 performances each calendar year. You'll know you've made it to the right place when you see the larger-than-life statue of the Red-Headed Stranger (Willie Nelson) outside the venue.
Paramount Theater
The 100-year-old Paramount Theater in downtown Austin originally opened in 1915 as a vaudeville house. Over the years, the classic music site has hosted the talents of Wynton Marsalis, Boz Skaggs, and the Indigo Girls.
Parish
An unassuming upstairs space above the storefronts of Bat Bar and Voodoo Donut, Parish is widely regarded as the city's best acoustics. Despite its location on bustling Sixth Street, the 450-seat upper level feels like an intimate haven, with its cozy wood-floored interior and a high stage just below the hip accommodating a variety of musicians. Seating is tight, so get there early for the best seats.
Saxon Pub
Since 1990, Saxon Pub has been a haven for singer-songwriters. The no-frills bar on South Lamar has wooden floors, low ceilings, and cold draft beer on tap. Saxon Pub is a beautiful spot to hear local musicians and touring acts; the pub has less than 170 seats. Free weekday shows during happy hour, a weekend matinee, and late-night performances exist. Tickets are cheap – usually under $10 per show.
Speakeasy
Speakeasy Austin is a locally owned bar and nightclub that has been in business since 1997, offering live music, special events, private parties, cocktails, and more. The bar provides three levels of entertainment, including a music lounge, a mezzanine level overlooking the stage, and the rooftop Terrace59 lounge with stunning views of downtown Austin.
Stubb's Bar-B-Q
The 2,500-capacity Stubb's Bar-B-Q offers the best of both worlds: amazing live music and lip-smacking Texas barbecue. Stubb's was the place to see the major headliners before the Moody Amphitheater opened just down the street from Mohawk in the Red River district. Today, Stubb's still draws big names who want to play the legendary stage indoors or outside. And don't forget all that tasty BBQ!
Victory Grill
In the 1940s, Victory Grill in East Austin was originally on the historic Chitlin' Circuit. Over the years, the venue has hosted blues and R&B artists like BB. Kim and Bobby Brand. Today, the venue still features live music and the famous Chili Bowl.
White Horse
The White Horse is another two-step spot where you can snare a shot of whiskey or a frothy brew. It's an East Austin honky-tonk with attitude. The intimate bar hosts a regular array of live bluegrass, country-western, and Americana bands. For eats, hit up the taco truck parked outside.