Planning a family vacation itinerary is crucial for making the most of your time in Austin. This vibrant city offers many attractions and activities, making it the perfect destination for a memorable family vacation. In the introduction of this blog, we provide a brief overview of Austin, highlighting its unique blend of history, culture, and natural beauty. From the iconic Texas State Capitol to the lively music scene, Austin has something to offer every family member.
To help you get the most from your Austin vacation, we've compiled a five-day family vacation itinerary that covers the most exciting things to do in and around the city. Below, we dive into a detailed itinerary that encompasses a variety of activities, including exploring downtown Austin, enjoying outdoor adventures, engaging in cultural and educational experiences, visiting family-friendly attractions, and immersing in the city's renowned live music scene. Let's go!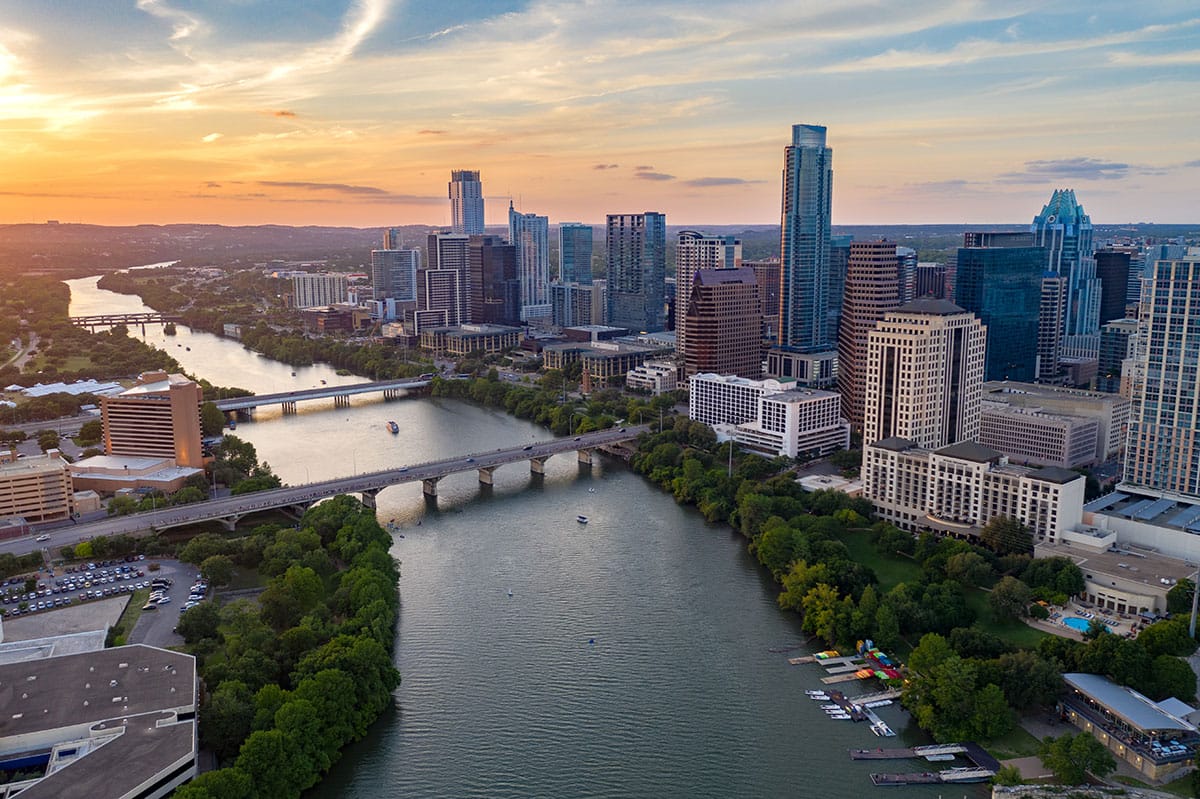 Day 1: Arrival and Exploring Downtown Austin
On Day 1 of your Austin family vacation, you'll begin by either arriving at Austin-Bergstrom International Airport or driving into the city. However you arrive, the next step is checking into a family-friendly vacation rental that offers comfort and convenience. Vacation rentals offer more amenities and space than a traditional hotel. So, if you're looking for more bang for your buck, consider a vacation rental through Lone Star State Vacation Rentals over a stuffy hotel room.
Once settled, it's time to dive into the vibrant downtown area of Austin. The city's heart is bustling with energy and plenty to explore. Start by visiting the magnificent Texas State Capitol, where you can view the stunning architecture and learn about the state's rich history.
Continue your exploration by heading to the Bullock Texas State History Museum, a must-visit for families seeking an interactive and educational experience. Discover captivating exhibits that showcase the diverse heritage and culture of Texas.
To make the most of Austin's beautiful outdoors, head to Zilker Park. This sprawling green space offers a multitude of activities for the whole family. Stroll, picnic, or rent bicycles to explore the park's trails. Kids will love the Zilker Zephyr miniature train and the playgrounds.
After a fun-filled day of exploration, it's time to refuel with a delicious dinner at a family-friendly restaurant. Austin offers a wide range of dining options, from classic Tex-Mex to global cuisine, ensuring everyone's taste buds are satisfied.
Day 2: Outdoor Adventures in Austin
Day 2 of your Austin family vacation is about embracing the city's outdoor adventures. Start your day by fueling up with a delicious breakfast at a local café, savoring the flavors of Austin's vibrant food scene.
Next, head to Lady Bird Lake, a picturesque reservoir in the city's heart. This oasis offers a plethora of activities for the entire family. Rent kayaks or paddleboards and embark on a serene adventure, gliding along the calm waters and taking in the stunning views of the city skyline. For a more relaxed experience, enjoy a leisurely picnic by the lake, surrounded by nature's beauty.
Continue your outdoor escapades by visiting Barton Springs Pool, a natural spring-fed pool that stays at 68 degrees year-round. Dive into the crystal-clear waters, swim, and bask in the sun while the kids splash around. Don't forget to explore the lush surroundings of Zilker Park, where you can find scenic trails, lush green spaces, and even catch a glimpse of local wildlife.
Treat your taste buds to the succulent flavors of Austin's famous barbecue cuisine as the day winds down. Head to a barbecue restaurant and indulge in tender smoked meats, savory sides, and delectable sauces that will leave you craving more.
Day 3: Cultural and Educational Activities
Day 3 of your Austin vacation is dedicated to exploring the city's rich culture and engaging in educational activities. Begin your day with a unique breakfast experience at a lively food truck park, where you can sample a variety of delicious cuisines in a vibrant atmosphere.
Next, make your way to the University of Texas at Austin, a prestigious institution renowned for its academic excellence and stunning campus. Start by visiting the LBJ Presidential Library, where you can delve into the life and legacy of President Lyndon B. Johnson through engaging exhibits and interactive displays. Afterward, take a campus tour to admire the architectural wonders and learn about the university's history and traditions.
Cap off the day with a satisfying dinner at a family-friendly Tex-Mex restaurant, where you can indulge in the flavors of Texas. From sizzling fajitas to cheesy enchiladas, the Tex-Mex cuisine in Austin will surely delight kids and adults alike.
Day 4: Family-Friendly Attractions
Day 4 of your Austin trip is packed with exciting family-friendly attractions. Begin the day with a delightful breakfast at a local bakery, savoring freshly baked pastries and aromatic coffee to energize a day of exploration.
Start by visiting the Austin Zoo and Animal Sanctuary, where you and your family can get up close and personal with various animals. Observe majestic lions, playful monkeys, and curious birds as you stroll through the well-maintained exhibits. The zoo also offers interactive experiences, such as feeding opportunities or animal encounters, providing everyone with a memorable and educational experience.
Next, head to Thinkery, a children's museum designed to inspire creativity and curiosity through hands-on science exhibits and interactive activities. Engage in experiments, build widgets, and discover the wonders of science together as a family. The Thinkery also offers creative workshops and art projects, providing artistic expression and creative play opportunities.
As the day draws to a close, treat yourselves to a delicious dinner at a family-friendly pizza place. Austin boasts a variety of pizza establishments that cater to all tastes, from classic Margherita to unique toppings and flavor combinations. Enjoy a casual and relaxed atmosphere while indulging in cheesy, mouthwatering slices.
Day 5: Outdoor Recreation and Live Music
On the fifth and final day of your Austin family vacation, immerse yourselves in outdoor recreation and live music, two quintessential aspects of Austin's vibrant culture. Start the day with a delicious breakfast at a popular brunch spot, where you can fuel up for an exciting day ahead.
Begin by visiting the Austin Nature and Science Center, a haven for nature enthusiasts of all ages. Lace up your shoes and embark on the center's scenic trails, immersing yourselves in the area's natural beauty while observing local wildlife. Explore the interactive exhibits that provide insight into Texas's diverse ecosystems and geological wonders, allowing your family to learn about the environment fun and engagingly.
No visit to Austin is complete without experiencing the city's famous live music scene. Head to a family-friendly venue to enjoy live music performances suitable for all ages. From folk and country to rock and jazz, Austin's music venues offer various genres to suit different tastes. Tap your feet to the rhythm, dance along, and create lasting memories as you enjoy the vibrant atmosphere and live performances.
As the day winds down, indulge in a memorable farewell dinner at a restaurant showcasing local cuisine's flavors. Austin is known for its diverse culinary scene, influenced by Tex-Mex, barbecue, and Southern flavors. Savor the unique blend of spices and fresh ingredients as you enjoy a delicious meal, reflecting on the beautiful experiences shared during your family vacation.
Summary
A family vacation in Austin promises an unforgettable experience filled with diverse activities and attractions. We highly encourage you to consider Austin as your next family vacation destination. The city's vibrant atmosphere, rich cultural heritage, and abundance of family-friendly activities make it the perfect place for creating lasting memories. From exploring nature to engaging in educational experiences, Austin has something for everyone.
Plan your itinerary, pack your bags, and prepare for an unforgettable family vacation in Austin, Texas. Discover the charm, adventure, and excitement that await you in this dynamic city, and create memories that will be treasured for years to come.